socially charged public art
Talking sculpture project
Watch this Currents News report about the Pope Francis Sculpture at St. Ignatius Loyola Church on Park Ave------------------------------->
The congregation
of Wits
The Talking Statues of Rome
In sixteenth century Rome, certain sculptures from antiquity that were installed in public squares around the city became hosts to written messages left by the public. These musings were often political dissent, but also poems, prayers, and witty observations. Collectively the Satue di Paranti di Roma (Talking Statues of Rome) became known as the Congrega delgi arguti (Congregation of Wits). This is public art at its very best use, and the tradition of the talking statues continues to this day in Rome, where sculptures in different parts of the city are in "conversation" with one another. Taking this idea as a platform for a new body of public art installations, Sculptors Joan Benefiel and Jeremy Leichman at Figuration Studio in Brooklyn have launched this project on Earth Day, April 22nd 2018 with their Pope Francis Sculpture at the Church of St. Ignatius Loyola on Park Avenue. Now the sculpture is in residence at its second location at our Lady of the Lake Church in Leominster, Mass. and will be there until mid January 2019.
The sculpture features a vibrant and life-like Pope Francis in stride with his famous smile, carrying his second encyclical: Laudato Si': On Care For Our Common Home. In this historic piece of writing, a triumph of research and leadership, the Pontiff declares it the responsibility of not just the faithful, but all of humanity to care for Mother Earth. He writes that the available research and data clearly show that the exploitation of the wonderful natural gifts of this world have caused significant damage to sources of food and fresh water, led to a warming climate, rising sea levels, and a host of other travails that seem to inordinately impact the poorest of humanity. Pope Francis has called for a new dialogue among all of humanity to solve this crisis.
Our sculpture asks the viewer to take part in this conversation by writing a handwritten note and depositing it into the base of the sculpture. These notes will be collected and posted to @hopeofpope on twitter. Or participants can post their message or picture to their favorite social media platform tagged #hopeofpope.
We are proud that the Church of St. Ignatius Loyola had agreed to be the first venue to host this project and now we are so excited to announce that the Pope Francis sculpture is now in residence through the new year at Our Lady of the Lake Church in Leominster, Mass.! It is our hope that we can generate interest from other communities or institutions to be the next venue. If you have or know of a place that would like to provide a home for the sculpture and continue the project, please contact us.
There is a fundraising campaign for the project to raise the money for either moving the sculpture to its next location (TBD) so that conversation is expanded, or to be able to cast more editions to have them placed simultaneously at multiple locations so that a conversation can arise between multiple sites and communities. Follow this link to our fiscal sponsor to make a tax-deductible charitable donation.
Finally, we see this project expanding beyond the Pope Francis sculpture and to new sculptural forms that address other equally important social justice and humanitarian concerns. Stay tuned and thanks for looking!
Joan Benefiel + Jeremy Leichman
Figuration Studio, Brooklyn NY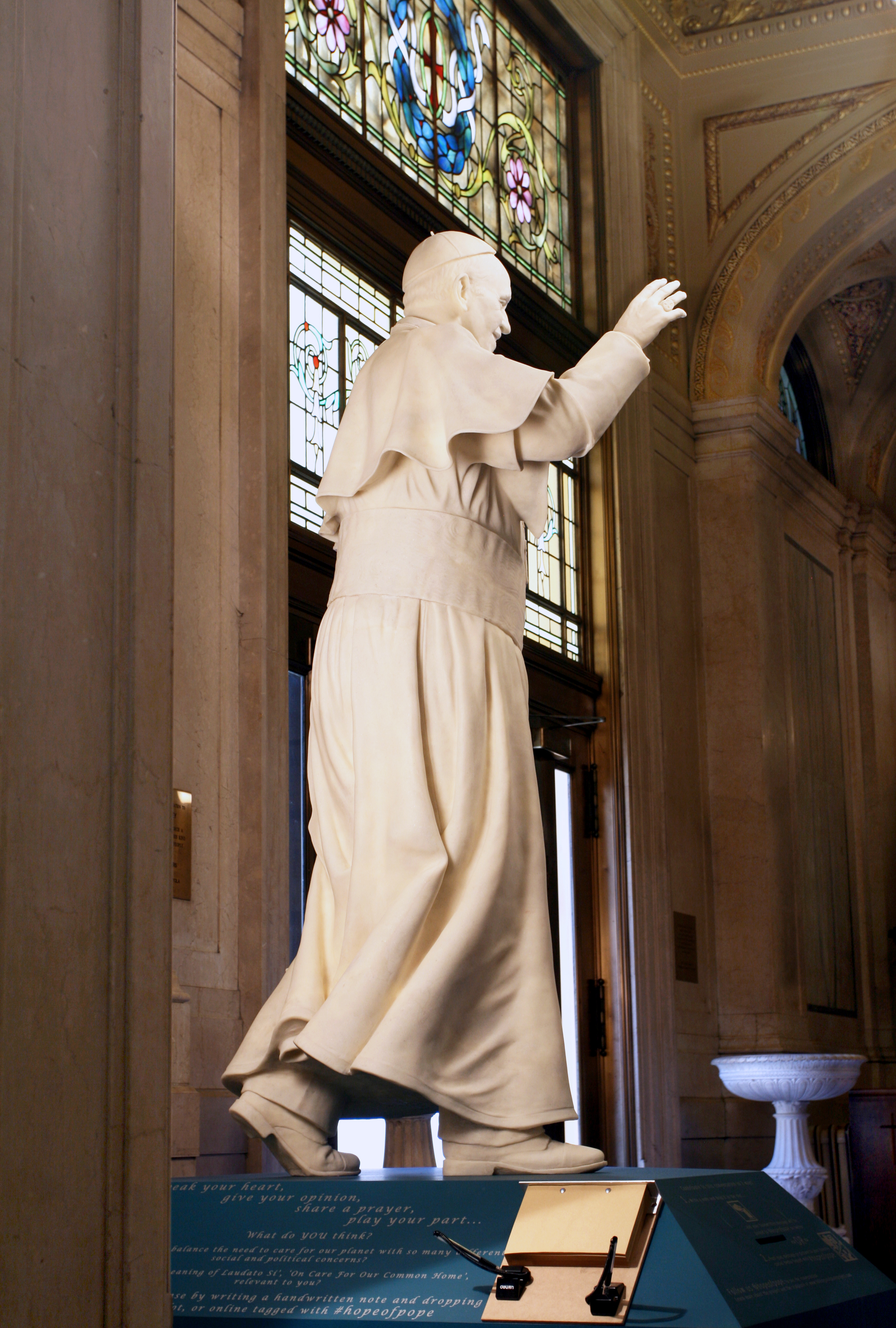 pope Francis Sculpture gets Installed at Fairfield University, type quick!! Many Thanks to our friends at Our Lady of The Lake in Leominster for their hospitality and Laudato Si' Fairfield!!!
Now Residing @ Fairfield University, Barone Campus Center, 3rd Floor.
#HopeofPope #LaudatoSi #PopeFrancisSculpture
About the
Sculpture
Artist Proof in an edition of 12
The Pope Francis Sculpture currently on tour at Fairfield University in Connecticut is the first cast made from the mold off of the original clay sculpture. There will be 12 archival casts made from the mold in bonded marble. Bonded marble is real crushed marble that is cast into the mold with high quality resin. These 12 casts are offered for sale exclusively through JesuitSculpture.com.
Additionally, miniature 15" high versions are available as well at JesuitSculpture.com
For individuals or institutions seeking foundry cast bronze, an edition of 6 has been authorized. For all sales inquiries, please email info@JesuitSculpture.com for more information.
About the
Artists
The Talking Sculpture Project is the collaboration of Joan Benefiel + Jeremy Leichman. Installing public art since 2005, this married and merry team of sculptors met while earning their Masters of Fine Arts in Figurative Sculpture at the New York Academy of Art. In 2008, Joan Benefiel formed Figuration Studio as a Woman Owned Business Enterprise specializing in engaging, meaningful and socially charged public art. Jeremy became a partner in 2010 shortly after they married. More about them and their work can be found at FigurationStudio.com